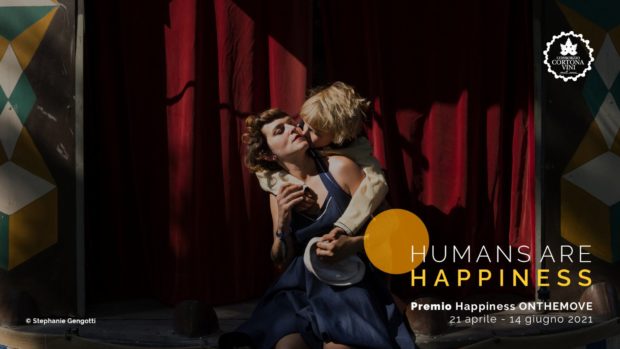 C'è ancora tempo – ma solo sino al 14 giugno prossimo – per iscriversi alla IX edizione del Premio internazionale Happiness ONTHEMOVE
Organizzato quest'anno in collaborazione con il Consorzio Vini Cortona, il premio Happiness ONTHEMOVE mette in palio per il primo classificato – che verrà premiato in occasione dell'inaugurazione di Cortona On The Move 2021 – la cifra di 3.000 euro.

Il tema centrale di Cortona On The Move – imperdibile appuntamento annuale con il mondo dell'immagine a tutto tondo – di questa edizione 2021 è "We Are Humans". Tema che, nelle intenzioni degli organizzatori della kermesse, si intende come racconto collettivo del nostro 'essere umani' in cui è assoluta protagonista la condivisione delle emozioni attraverso l'immagine.
Come è logico, visto il periodo, poi, assume un significato particolare Humans are Happiness, il concorso fotografico lanciato per documentare il significato di felicità. Come si può immaginare, si tratta di un tema al tempo stesso intimo e planetario, in questa contingenza storica comunque intriso di speranza, di sogni e bisogni del futuro.
Una bella sfida a colpi di fotografie, che COTM propone a fotografi professionisti ed emergenti.
I progetti fotografici inviati saranno analizzati e selezionati dalla giuria (di cui fanno parte Elena Boille, Deputy Editor and Photo Editor Internazionale, Arianna Rinaldo, Artistic Director Cortona On The Move, Gaia Tripoli, Photo Editor The New York Times, James Wellford, Senior Visual Editor/Producer National Geographic, Paolo Woods, Fotografo), ed il vincitore sarà premiato in occasione di Cortona On The Move 2021 con tutti gli onori e un corrispettivo in denaro (3.000€). Ma affrettatevi: come accennato, c'è tempo solo sino al 14 giugno.
https://www.cortonaonthemove.com/open-call/premio-happiness-onthemove/